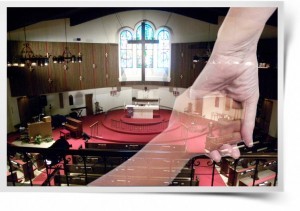 Emanuel Lutheran Church has had many ministries over the last century. A few of our current ministries are highlighted below.
Large Print Ministry
We have two teams of Large Print book builders that meet each week. They produce hundreds of Large-Print books that are distributed to the visually impaired around the world. We've been doing this work for 40 years now, so thousands and thousands of books have been created and distributed! In fact, we pioneered some technological innovations in the process that are utilized by congregations around the country and world for producing Braille books!
Prayer Ministry
Prayer is an important element of the individual as well as corporate Christian life.   We  encourage our members to be devoted to prayer both together with one another and individually.
Jail Outreach
Emanuel invests in people in crisis.  We have commissioned a part-time Chaplain to the Santa Barbara County Jail who visits inmates multiple times each week.  Emanuel is helping to promote jail/prison ministry to other congregations in the Southwestern United States, and you can contact our office (805.687.3734) if you are interested in learning about how your congregation could launch this sort of ministry.
Santa Barbara Rescue Mission / Bethel House
Emanuel invests in people in crisis.  The Santa Barbara Rescue Mission / Bethel House is a private addiction recovery program for men and women, respectively.  The year-long residential treatment is Christian and works to address underlying issues in addiction and provide residents with skills and training necessary to being a functioning part of society after their successful graduation.  Emanuel is honored to host graduation ceremonies/receptions for the Mission, as well as to provide mentoring and Bible Study teaching/discussion times each week.